Save the date for "Behind the Lens—Movies Made in MA"
Festival Preview Party
For more about the event click here!
South Shore Art Center is excited to celebrate film arts and filmmaking in Massachusetts as a special highlight of our 63rd annual Arts Festival.
Featured Guests:
Photographer Mark Schäfer, and his behind the scenes photos from the set of I Feel Pretty
Dominic Rustam, Producer of I Feel Pretty
Please join us on Thursday, June 14 for our Festival Preview Party, BEHIND THE LENS: Making Movies in MA. Meet some of the creative trust behind the locally filmed and produced I Feel Pretty, which stars Amy Schumer and Michelle Williams. See "behind the scenes" photographs from I Feel Pretty, as well as poster art from other Massachusetts-based film sets. Cohasset Common will morph into a Hollywood premiere as you enter an Aladdin tent via red carpet, sip ice-cold champagne, and mingle with the movers and shakers of the Massachusetts film industry.
EATS, DRINKS, MUSIC, LIVE AUCTION & MERRIMENT
$250 6:30–9:30pm includes VIP HOUR Limited availability.
Enjoy champagne with Island Creek Oysters and hors d'oeuvres, JAM Catering
Sponsored by Les Zygomates, Veuve Cliquot & Belvedere
Purchase tickets by clicking here!
$125 GENERAL ADMISSION 7:30–9:30pm
RSVP BY June 8 781.383.2787 or at ssac.org

Purchase tickets by clicking here!
Sponsored by: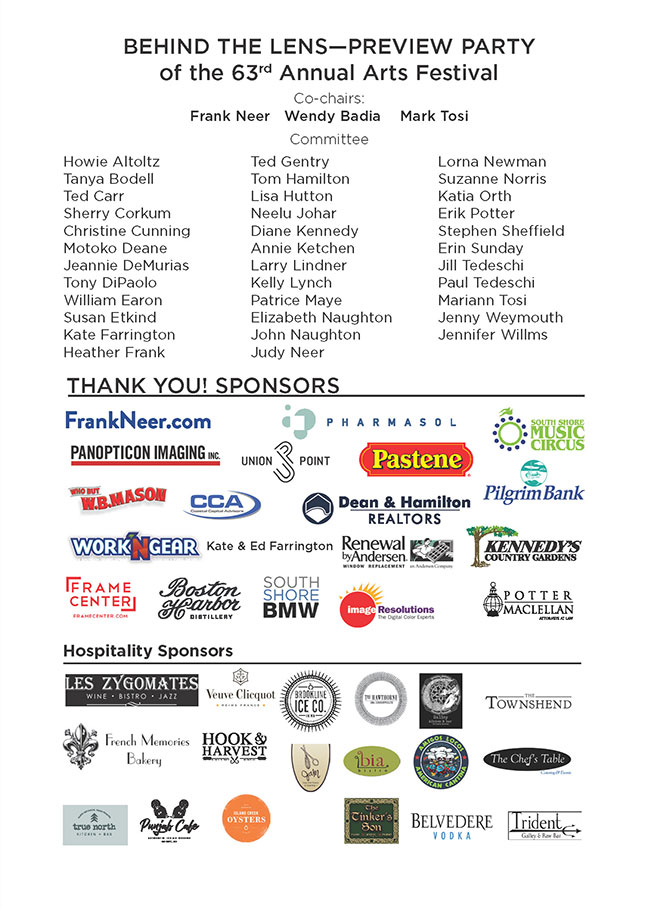 ---
"South Shore Art Center Arts Festival mixes the best of small town New England summer
festivals with an uncommon attention to detail and commitment to presenting quality art and handmade craft."
South Shore Art Center Arts Festival celebrates its 63rd year and showcases craft and fine artists from New England and beyond. In addition to almost one hundred juried exhibitor booths, the Arts Festival features a juried art exhibition and members' show, live music performances, artist demonstrations, children's art activities and a young artist exhibition.


The Arts Festival draws over 9,000 visitors from the Greater Boston region to historic, oceanside Cohasset Common.
---
About South Shore Art Center
A non-profit organization formed in 1954, South Shore Art Center is dedicated to enriching the communities south of Boston by fostering an understanding and appre­ciation of the visual arts through exhibitions and educa­tion. In addition to a nationally-recognized exhibition program, the Art Center offers courses and workshops for adults and children, and enrichment programs to area schools.

Contact Patrice Maye, Executive Director, pmaye@ssac.org