ARTIST IN RESIDENCE Program
---
Past Artist in Residence, Lisa Goren
We are delighted to welcome Lisa Goren, a watercolorist living in Boston, as this year's Artist in Residence. Lisa's unique paintings focus on polar and frozen landscapes.  Lisa shares stories of her experiences and travels through Antarctica and the High Arctic in a colorful presentation to students.  Children will learn about Lisa's life as an artist, her creative process and her techniques for painting. Lisa discusses some history of polar exploration, climate issues and native animal life.
Students will get to paint a watercolor of real ice forms from observation right in the galleries as they slowly melt before their eyes!  Each student will take home an original, matted watercolor of their own.
For more information, contact Alicia Herman, Community Programs Coordinator. Email: aherman@ssac.org

Supported by


Tania and James McCann

This project has been supported by a grant from the Artist's Resource Trust
George Washington Toma TV & Appliance
Hingham Institution for Savings
Pilgrim Bank
Rockland Trust
South Shore Playhouse Associates
---
Interview with Wollaston School, Quincy students on their visit today with Lisa Goren our Artist in Residence.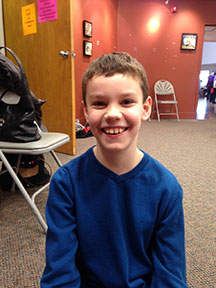 Kyle, Wollaston School, Quincy
Allison: What interesting fact did you learn today from your visit with Lisa Goren, our Artist in Residence at SSAC?
Kyle : "I learned that penguin poop is pink because they eat krill which is pink!"
"Also, I already knew from my own research that Orca Whales will tip icebergs over to get food"
Mathew, Wollaston School
Allison: What did you find most interesting about Lisa and her art?
Mathew: " Lisa traveled on a big ship filled with artists exploring the Arctic. They all made art on the ship. Lisa relied on a dog to help her smell polar bears so she wouldn't get attacked."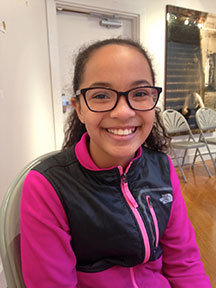 Skyline, Wollaston School
Allison: What was the most remarkable thing that Lisa did on her travels?
Skyline: " Somehow she painted the icebergs just before they flipped and changed colors"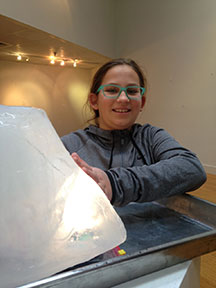 Zara, Wollaston School
Allison: What was your favorite part of your visit today?
Zara: " My favorite thing was painting the ice— which I never thought of doing before. It was hard to know which colors to blend and on one of my paintings some of the iceberg bled into the sky and it came out pretty, but I wasn't expecting it."
---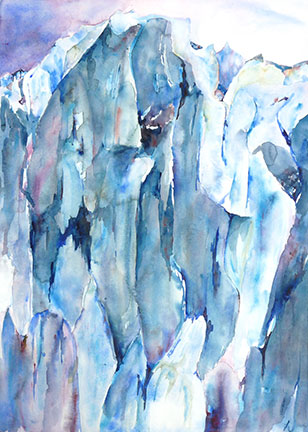 "Alaskan Glacier", 2016
watercolor on clayboard, 30 x 22 in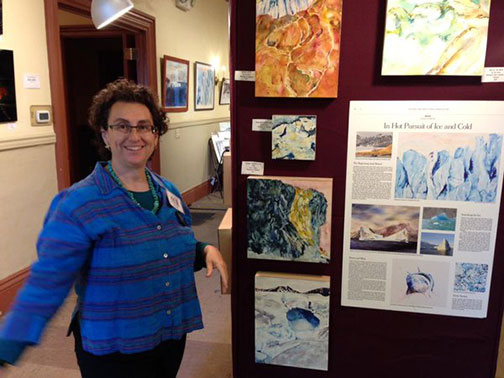 Images at left: "Jurley Glacier 2", 2015, watercolor on 300 lb paper, 30 x 22 in • Lisa Goren giving a demonstration
"Alaskan Glacier with Blue Crevice" 2016, watercolor on clayboard, 6 x 6 in • "Antarctica Rocks" 2012, watercolor on 300 lb paper, 15 x 19 in