Save the date for
"Folk Americana Roots Hall of Fame"
Festival Preview Celebration
(Online registration is closed. Limited availability, call SSAC for tickets until 3:00pm)
For More information, Click Here
64th ANNUAL ARTS FESTIVAL

THURSDAY, JUNE 13, 2019
Under the Tent | Cohasset Common
EATS, DRINKS, ART, MUSIC, LIVE AUCTION
Cocktail Attire
$250 6:30–9:30PM includes VIP HOUR Limited availability
Enjoy champagne, oysters and specialty hors d'oeuvres
Sponsored by Les Zygomates, Veuve Cliquot and Fresh Feast
$125 7:30–9:30PM GENERAL ADMISSION
RSVP BY JUNE 7 • 781.383.2787 or at ssac.org
To kick off our 64th annual Arts Festival, South Shore Art Center will team up with the Boch Center on a special gala evening that celebrates the sound and iconography of American music. For one night only, the Boch Center will bring a sampling of the newly opened Folk Americana Roots Hall of Fame to Cohasset Common with a carefully curated selection of photographs, memorabilia and original artwork, including crafted guitars from the Asa Brebner collection.
This evening will offer an insider's insight to the continually emerging American music scene—inspired by the past and energized by what's to come. Don't miss the opportunity to walk through historic moments in American music like the cover image of Bob Dylan and Al Kooper at the 1965 Newport Folk Festival—the night Bob Dylan "went electric" and transformed folk music forever. Explore the emerging artists innovating this genre today!
Don't miss the 2019 Festival Preview Celebration! Toast the new Folk Americana Roots Hall of Fame with many of those who made it happen, including the legendary David Bieber of WBCN and David Bieber Archives; renowned photographer Ron Pownell; and Joe Spaulding, President and CEO of the Boch Center, along with other special guests.

The Folk Americana Roots Hall of Fame Festival Preview Celebration kicks off South Shore Art Center's 64th annual Arts Festival, which officially opens on Friday, June 14 and runs through Sunday, June 16. Welcoming over 12,000 attendees, Festival boasts 90+ juried craft artists, outstanding music and food, 400+ pieces of contemporary art in the outdoor tents and in Art Center galleries, and creative activities in the KidsTent. This do-not-miss event heralds in summer with an explosion of art!
Sponsored by: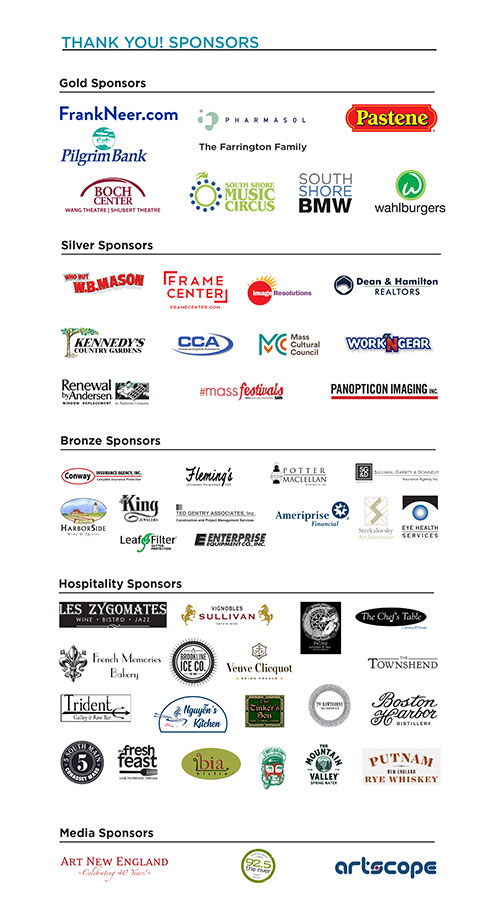 ---
"South Shore Art Center Arts Festival mixes the best of small town New England summer
festivals with an uncommon attention to detail and commitment to presenting quality art and handmade craft."
South Shore Art Center Arts Festival celebrates its 63rd year and showcases craft and fine artists from New England and beyond. In addition to almost one hundred juried exhibitor booths, the Arts Festival features a juried art exhibition and members' show, live music performances, artist demonstrations, children's art activities and a young artist exhibition.


The Arts Festival draws over 9,000 visitors from the Greater Boston region to historic, oceanside Cohasset Common.
---
About South Shore Art Center
A non-profit organization formed in 1954, South Shore Art Center is dedicated to enriching the communities south of Boston by fostering an understanding and appre­ciation of the visual arts through exhibitions and educa­tion. In addition to a nationally-recognized exhibition program, the Art Center offers courses and workshops for adults and children, and enrichment programs to area schools.

Contact Patrice Maye, Executive Director, pmaye@ssac.org