MEMBERS SHOW
Arts.Festival Members
June 2020

Arts Festival Members Show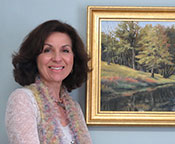 Angela Zoni Mault is the Executive Director of the Creative Arts Center in Chatham where she oversees all of the classes, workshops and exhibitions at the educational art facility.  Established in 1969 the Creative Arts Center is dedicated to high quality arts education for all ages.  Angela enjoys all types of art and has concentrated in oil painting for many years. She holds degree in art education. Please stop by the Center 154 Crowell Road, Chatham where she will be happy to give you a tour of the Center.
Our Annual Arts Festival Members Show will be held virtually on the SSAC website, June 26, 27 & 28! The page will remail up until July 7.
Stay tuned for the images live on the 26th of June!
---
Artists and Works in the Members Show —Will be posted June 26 by end of day.

AWARDS

Members Grand Prize—Susan Ahearn, Surfs Up

Awards of Excellence

Richard Alemian, Rhododendron

Virginia Holloway, Divided Together

JoAnne Chittick, Tang Horse

Laurinda O'Connor, Rocky Edge

Susan Ahearn—Surf's Up

Kimberley Albanese—A GOOD DAY

Richard Alemian—Rhododendron

Martin R Anderson—Mighty Aphrodite

Marcia Ballou—Sunny side up

Janet Blagdon—Illumination

Sally Bousquet—Setting Sail

Carol Branton—Vigil

Paul Carley—Imagination

Karen Cass—Encrypted

Margot Cheel—Minot Lighthouse

JoAnne Chittick—Tang Horse

Heather Collins—Peace Like A River

Keith Conforti—Wallflowers

Ann Conte—Night View

David Cucinotta—That's Ranunculus!

Ruth Davis—Thankful For This Day

Mike Dick—Ft. Warren, Boston

Joan Drescher—Awakening

Susan Etkind—The Rock

Kathleen Folino—Baby Thicket

Laurie France—Town Pier

Donna Haig Friedman—Evening Light

Drew Gaffney—Brave New World

Janice Gallinger—Day at the Beach

Lisa Goren—Whale Bones, Antarctica, #15

Denise Byrnes Graham—October Sunset

Larry Guilmette—Rigolo

Becky Haletky—Al Mac's

Santiago Hernandez—Still Life with Tropical Fruit

Sara Holbrook—Le Kiosque

Virginia Holloway—Divided Together

Christian Hudanich—Niveaux

Donna Ingemanson—Untitled #327

Nanci Jaye—Mermaid

Kendra Keenan—Ways to Bend

Robert Killion—Baby Bull

William Kirtz—Zoom Share Pink Peony still life (133)

Lisa Marder—Day is Done

Mary Marley—Gossamer

Lindsay McGrath—Nantasket Beach, Hull

Marguerite Moore—Peonies

Patrick Niebauer—Passing Showers

Laurinda O'Connor—Rocky Edge

Leanne O'Connor—Footbridge Beach

Linda Osborne—Pear branches

Karen Pinard—Summer Wave II

Sandra Ramsay—Raspberry Cake with Sunset

Lynn Ray—Steps From The Bay

Amanda Rebelo—Grace

John Reilly—Winter Solace

Stephanie Roberts-Camello—Windy Days

Donna Rossetti-Bailey—Golden Sunrise

Elise Russo—Summer Afternoon

Jess Hurley Scott—Blueberry Hill, #3

Isabel Shamitz—Commonwealth at Mass. Ave.

Stephen Sheffield—We'll Be Together Again

Vcevy Strekalovsky—Valentine

John Sullivan—Bay Farm

Richard Sweeney—Surfside Fury

Syma—April Sky with a Deeper Shade of Blue

Tina Watson—Sky on Fire

Lara Williams—Passing Storm
Purchase works here. To see larger images of the works use this link to our Adobe Spark site.
Susan Ahearn
Surf's Up, 2020
Oil Painting, 3.25x3.25x0
$ 500

Richard Alemian
Rhododendron, 2020
Watercolor, 7x10x0
$ 150

Kimberley Albanese
A GOOD DAY, 2020
Mixed Media, 10x8x0.25
$ NFS

Martin R Anderson
Mighty Aphrodite, 2020
Mixed Media, 14x14x3
$ 600

Janet Blagdon
Illumination, 6
Acrylic Painting, 24x24x1.5
$ 1700

Marcia Ballou
Sunny side up, 2019
Mixed Media, 23x33x1
$ 1800

Sally Bousquet
Setting Sail, 2017
Photography, 20x26x1
$ 500

Heather Collins
Peace Like A River, 2020
Pastel, 12x18x0
$ 650

Paul Carley
Imagination, 2019
Acrylic Painting, 16x20x0.05
$ 300

Carol Branton
Vigil, 2020
Mixed Media, 5.5x3.5x0.25
$ 200

Margot Cheel
Minot Lighthouse, 2019
Photography, 22x30x0.75
$ 650

Karen Cass
Encrypted, 2020
Oil Painting, 40x-5x2
$ 2800

JoAnne Chittick
Tang Horse, 2018
Oil Painting, 13x13x1
$ 550

Keith Conforti
Wallflowers, 2020
Photography, 18x24x1
$ 425

Ann Conte
Night View, 2020
Sculpture-3D, 14x8x3
$ 165

David Cucinotta
That's Ranunculus!, 2020
Pastel, 11.5x11.5x1
$ 1000

Ruth Davis
Thankful for this day, 2020
Oil Painting, 48x48x2
$ 4200

Mike Dick
Ft. Warren, Boston, 2020
Photography, 20x24x1
$ 350

Joan Drescher
Awakening, 2018
Printmaking, 21x14x0
$ 450

Susan Etkind
The Rock, 2020
Pastel, 8 x 8
$ 75

Donna Haig Friedman
Evening Light, 2020
Acrylic Painting, 24x24x1.5
$ NFS

Kathleen Folino
Baby Thicket, 2020
Printmaking, 5x7x1.5
$ 350

Laurie France
Town Pier, 2020
Photography, 18x24x0
$ 375

Drew Gaffney
Brave New World, 2020
Acrylic Painting, 60x48x1.5
$ 3500

Janice Gallinger
Day at the Beach, 2020
Watercolor, 22x28x1
$ 400

Lisa Goren
Whale Bones, Antarctica, #15, 2008
Watercolor, 30x30x0.5
$ 925

Denise Byrnes Graham
October Sunset, 2016
Pastel, 12x12x0
$ NFS

Larry Guilmette
Rigolo, 2019
Mixed Media, 19x22x1
$ 350

Becky Haletky
Al Mac's, 2019
Watercolor, 20x28x1
$ 1500

Santiago Hernandez
Still Life with Tropical Fruit, 2020
Oil Painting, 30x30x2
$ 4000

Sara Holbrook
Le Kiosque, 2019
Photography, 18x24x1
$ 400

Virginia Holloway
Divided Together, 2020
Mixed Media, 42x28x0.25
$ 550

Christian Hudanich
Niveaux, 2019
Sculpture-3D, 48x24x24
$ NFS

Donna Ingemanson
Untitled #327, 2019
Mixed Media, 12x12x1.5
$ 525

Nanci Jaye
Mermaid, 2020
Mixed Media, 38x28x1
$ 950

Robert Killion
Baby Bull, 2019
Acrylic Painting, 20x16x1.5
$ 1700

Kendra Keenan
Ways to Bend, 2020
Acrylic Painting, 12x16x1.5
$ 300

Lisa Marder
Day is Done, 2020
Acrylic Painting, 11x14x1
$ 800

William Kirtz
Zoom Share Pink Peony still life (133), 2018
Oil Painting, 32.5x28.5x0
$ 1000

Mary Marley
Gossamer, 2019
Encaustic, 25x19x2
$ 950

Marguerite Moore
Peonies, 2020
Oil Painting, 10x10x1
$ 500

Lindsay McGrath
Nantasket Beach, Hull, 2020
Photography, 11x9x0
$ 300

Patrick Niebauer
Passing Showers, 2019
Watercolor, 10.5x13.5x0
$ 200

Laurinda O'Connor
Rocky Edge, 2020
Pastel, 10x10x0.01
$ 600

Linda Osborne
Pear branches, 2020
Oil Painting, 20x10x1.5
$ 400

Leanne O'Connor
Footbridge Beach, 2020
Acrylic Painting, 16x20x2
$ 300

Karen Pinard
Summer Wave II, 2020
Watercolor, 20x32x0
$ 1200

Lynn Ray
Steps From The Bay, 2020
Oil Painting, 30x24x1.5
$ NFS

Sandra Ramsay
raspberry cake with sunset, 2019
Oil Painting, 10x10x1.5
$ 800

John Reilly
Winter Solace, 2017
Oil Painting, 21 x 27
$950

Amanda Rebelo
Grace, -13
Photography, 14x11x0
$ 500

Donna Rossetti-Bailey
Golden Sunrise, 2020
Pastel, 9x12x1
$ 395

Stephanie Roberts-Camello
Windy Days, 2019
Mixed Media, 8.25x9x3
$ 350

Jess Hurley Scott
Blueberry Hill, #3, 2020
Acrylic on multiple layers of acrylic panel, 5.25"w x 7.25"h x 2"d
$490

Elise Russo
Summer Afternoon, 2020
Oil Painting, 18x24x0
NFS

Stephen Sheffield
We'll Be Together Again, 1
Mixed Media, 14x11x0.1
$ 250

Isabel Shamitz
Commonwealth at Mass. Ave.
Oil Painting, 24 x 20
$1200

John Sullivan
Bay farm, 2020
Pastel, 5x19x0
$ 400

Lara Williams
Passing Storm, 2020
Encaustic, 12x9x0
$ 395

Vcevy Strekalovsky
Valentine, 2020
Oil Painting, 16x12x0.08
$ 950

Richard Sweeney
Surfside Fury, 2020
Photography, 10x30x0
$ 325

Tina Watson
Sky on Fire, 2020
Encaustic, 18x36x1.5
$ 1100

Syma
April Sky with a Deeper Shade of Blue, 2020
Photography, 12x9x0
$ 200

Page Railsback

Orange Sky, 2020

acrylic, 36 x 36 in

$3600